Pin It
Whew... on day two of my new scrapping and blogging schedule. It's really pushing me to focus on the task at hand! :) Let's hope I make it to day three and then on to day four! lol.
Thursdays are saved for
Sweet Shoppe Designs.
I struggled a little on what I was going to pick from
July's Pinterest challenges
... I went to grab another cup of coffee and came back for a fresh look. Still... no idea... I then ventured onto their blog and saw a
bonus challenge
! This looked interesting... and Walla... I knew exactly what I wanted to do! Love it when that happens! :D
This layout will also go in my son's
mini summer album
. It will be fun to look back and remember his best pals... hopefully they will all be life long pals.. we love them all. :)
I pulled several fun ideas that I've been compiling and included them in this layout:
1. I was inspired by the challenge to create a layout using
"Superlatives"
for family members or friends.
2. I was inspired by this
example layout
... I love how Lynnette cut the circles out of the top paper to reveal another paper pattern behind. cute.
Layout by Lynnette




3. I then browsed through
Sketchy Thursday Photostream on flick
r for an idea on how I would group the photos... I thought this sketch was a great start, as, I wanted to do the circle idea above.
Sketchy Thursdays - #21110
4. And of course I HAD to do my cut-out photo with doodling. ;) This is one of my favorites
of him so far this summer... LOVING that smile.
And I think they all came together quite nicely!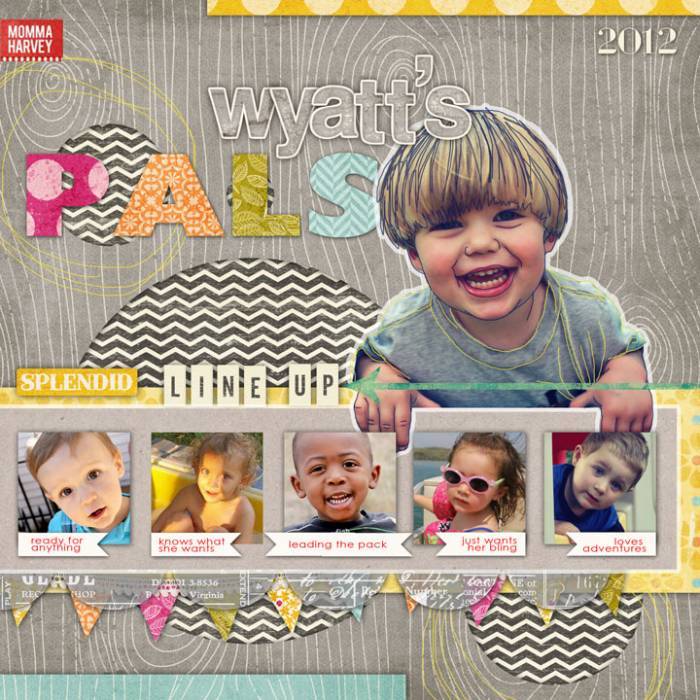 I have to say.... I'm pretty excited for tomorrow... It's a Free day Friday for me and I have some fun ideas in mind! :D Maybe a doodle giveaway? I dunno... you'll have to come back tomorrow and see! :D